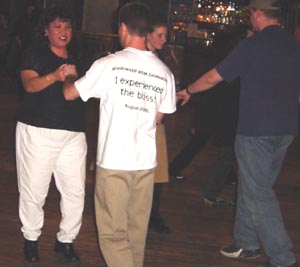 Partner dancing is a great way to get exercise, and to have contact with the opposite sex, but without having to worry about the boyfriend-girlfriend thing. In partner dancing, you don't need a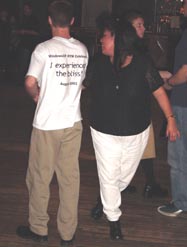 partner to go to the lessons, or even a dance... you can come by yourself. You get matched with a partner when the lesson starts, and you switch partners every couple of minutes during the lesson. After the lesson you can practice with someone, if you like, and most kids are at the same level, or you can just leave. At any rate, you meet a whole bunch of people, and it is really fun!! There are all kinds of partner dancing: swing, lindy, salsa, ballroom, zydeco, country-western, and many others. Swing dancing is the easiest one to learn and the most popular for that reason. To see a

video of kids swing dancing

click on the video button below at right.
It doesn't matter what size you are. Nobody cares about your size... they just like to dance to music. And it's a great way to get exercise. And it can also help take your mind off the cravings and get rid of nervous energy. There are many fun dance clubs for kids and dance teams which don't require any experience.

From Amanda, Age 18 - 3/1/08
Ht. 5'8", Start: 225 lb, Current: 181 lb, Goal: 170 lb - WOOHOO! I lost 2 pounds this week! yaay! this is the lowest i have ever been. i am soo happy. reminder for anyone, go out on the weekend and dance dance dance, trust me, you'll see the results !! good luck everybody :)
To find out where you can take partner dancing lessons in your area, just call your city parks and recreation department, or look in the yellow pages of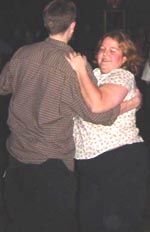 your phone book under "dancing", or go to any web search engine, like google.com, and search on "kids partner dancing (your city)"
, or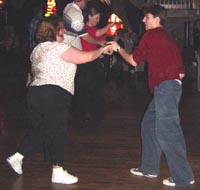 "kids swing dancing (your city)", or "teen swing (your city)". Places like community centers, church groups, the YMCA/YWCA, city parks and recreation depts., and the boys and girls clubs are also good places to ask. Partner dancing is great fun, even kids as young as 10 do it, and you can do it the rest of your life!

More photos.......