A Sweet Tip about Sugar Addiction
Halloween Candy
When you think of Halloween, what's the first thing that comes to mind... Is it finding the right costume? The haunted houses? Carving a pumpkin? Or the CANDY!!!
The pic on the right shows shelves of Halloween candy at a local drug store chain - bags of Three Musketeers, Milky Ways, Snickers, Twix, etc. - stacked from floor to above eye level. Some unfortunate kids are going to being eating all this candy.
October 30 (the day before Halloween) is national Sugar Addiction Awareness Day (SAAD). It was placed the day before Halloween on purpose to make Halloween healthier and raise awareness of the potentially dangerous qualities of so much candy kids consume on Halloween. Eating lots of candy can actually be addicting, leading to obesity, metabolic syndrome and diabetes, as well as tooth decay.
Brain Changes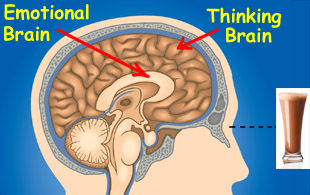 Kids eat candy because it tastes good, and "it's there." But, in the process their brains develop changes to keep the behavior going, which eventually may result in being unable to stop eating candy - a real addiction. Parents likewise, unwittingly enable this addiction by rewarding their kids with "goodies" or "treats." Such treats are anything but good, as they may initiate a life of food addiction and resulting obesity. A study in rats confirms that sugar can be addicting.
In a recent poll on our site, most overweight kids said that holiday treats mess up their weight loss efforts, and Halloween is one of the worst. In another poll chocolate and candy are the foods that overweight kids say they have the most problem with.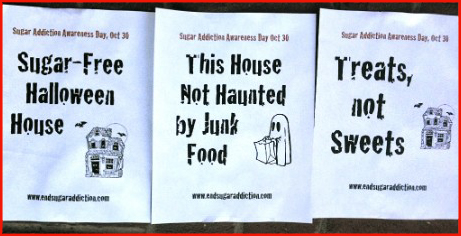 The effort to raise awareness of sugar addiction is supported by many leading doctors, researchers, nutritionists and obesity experts. Sugar Addiction Awareness Day is a set day when you can take a big step and break the sugar addiction cycle.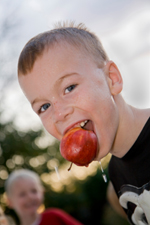 How about celebrating Halloween sugar free this year?! The SAAD website offers some great ideas for you and your parents to get started, including posters (above) you can print, sugar challenges, etc. You can even submit your own ideas! Check it out.
Maybe this year, you can think about bobbing for apples, carving a cool pumpkin, or coming up with an awesome costume (winning a contest?),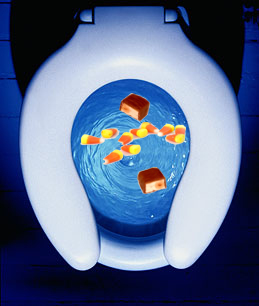 instead of eating all that candy that leads to addiction and obesity!
If you go trick or treating, give yourself a treat by flushing all that candy down the toilet!
Hope you all have a safe and spooky Halloween!